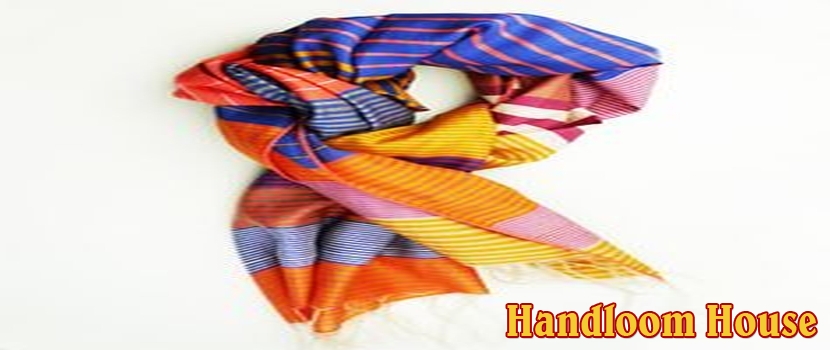 India is rich in handloom fabrics. It is actually an inseparable part of Indian culture. And, West Bengal holds the richest tradition of weaving handloom products such as scarves. All the designer handloom supplier companies in Kolkata passionately serve the business as part of Bengal cultural heritage. This timeless legacy is spread all over the world. A decade back the use of handloom scarves went on a low track, but thankfully people have moved back to the goodness of it, and the 200 decades old heritage of handloom products is growing again.


About Handlooms:
Incredibly India has almost the entire (95%) handloom fabrics of the world! Another interesting fact is almost 15% of the entire fabric production of the country is dependent on this sector. More than 43 lakhs workers are engaged into this handloom sector.


Handloom fabrics offer numerous health benefits. Being a natural fabric, every single piece of scarves produced by the designer handloom manufacturers is a masterpiece. These heritage relics are handed over by every generation to its next.


Most importantly, choosing handloom scarves we chose to remain healthy, keep the environment safe and save some money by investing in these durable products. Besides that, you are helping the handloom workers of the nation to remain in this sector and continue their cultural heritage.


7 reasons why should you always choose wearing handloom scarves:


Stoles and scarves rock throughout the year. Whether it is to style differently, to get warmth in the cold or to avoid sunburn in the scorching summer, these pieces of clothes are everyone's favorite. In fact, we love to show off our grandma's age-old pashmina shawls. Those are practice to use as well as stylish too. If you want to get any modern designs, contacting a designer handloom scarves wholesaler will be a great move!
Let's find out why everyone cherish for scarves and stoles.


1. Refresh your appearance
A designer and vibrant clothing too can look boring or incomplete. Just give it a finishing touch with a matching scarf. Just tie it with your handbag or around the neck, it will change your entire appearance.


2. Jazz up any outfit
Any simple outfit can look extraordinary being compiled with a scarf. Wearing it with different styling will add a cherry to the cake. A perfect color match of the scarf to your dress can give your personality a vibrant look.


3. Feel feminine
Get your woman out of you! Contrast your personality with your outfit and make it a classic one. Wearing a simple pashmina stole you can make a strong and more feminine appearance.


4. Keep your neck warm
If you do not like wearing sweaters or jackets in light cold, keeping a scarf with you can come out handy. As a winter wear, choose a pashmina material for better results. They are lifesavers!


5. Look taller
Yes, you read it right. Wearing a scarf can make you look tall. Just hang it on your high heels. Fold a square shaped scarf diagonally like a band. If your scarf is long enough, drape it around your neck. These can lengthen your silhouette.


6. Cover a mistake!
Hide your age by draping a scarf around your neck and upper arm regions. These body parts can reveal your age! Cover your clothing flaws by draping a triangular shaped folded scarf around your neck.


7. Be formal
A scarf or stole can be a great help if you are going to attend any formal events. In this case, the choice of the stole quality and material matters. To maintain sophistication, a pashmina stole can help. Make your appearance eye-catchy.

A number of wholesale designer handloom suppliers are there in India who efficiently provides a range of color, design and material varieties for scarves, stoles and shawls. Make your choice and define your own style statement.